WELCOME TO TRI-STATE OUTFITTERS
ALERT! OUR NEW EMAIL ADDRESS IS
elk388@eoni.com
Guaranteed outfitters tags are available for non-residents only until 5/30/2012!

Tri-State Outfitters offers deluxe guided hunts, drop hunts and information fee services. We also offer guided fishing trips for kokanee, mackinaw, rainbow trout, bass, catfish, crappie and sturgeon. We hold numerous state and other record book game animals that our clients have taken as well as lake records for our fishing.

We prefer to run no-frills trophy oriented type hunts, but can and will arrange the hunt you prefer after all its your hunt and the Trophy is in the eyes of the beholder.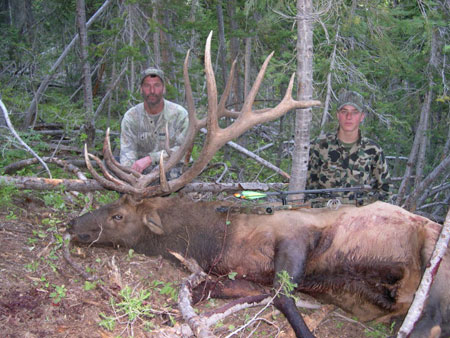 Tri-State Outfitters is an equal opportunity service provider and operates under a special use permit administered by the USDA Wallowa Whitman National Forest.
Tri-State Outfitter's photographs, images, and content is copyrighted material and cannot be used without written consent of Tri-State Outfitters.